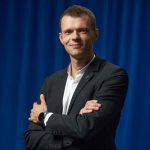 According to Reports and Data, by 2027, the global artificial intelligence in healthcare is expected to reach a market size of USD 61.59 billion. Before that, the industry will go through exponential growth. The technology is now mainly used to increase productivity and reduce the burden on medical staff, as well as to analyze complex diagnostic and medical data. Special attention is paid to the use of AI to accelerate the development of vaccines against COVID-19.
AI technology has great potential for medicine: from applications for mobile patient support to the development of medicines with machine learning methods. However, many people hesitate to experiment with AI because of problems with the confidentiality of information or the lack of structures for unimpeded data exchange.
A study by the IT company USM Systems showed that 50% of the world's medical organizations are planning to introduce artificial intelligence technologies by 2025. In particular, pharmaceutical companies will invest more money in the discovery of new drugs for chronic and oncological diseases.
CB Insights has identified 12 main areas in which medical startups are now appearing. Four of them, however, account for 54% of the total volume. These include access to clinical opportunities. Tools that expand access to clinical opportunities help healthcare providers and buyers (patients) find each other and interact for more efficient and effective delivery of medical care.
The next direction for development is screening and diagnostics. There is a wide range of solutions here, from patient testing to medical imaging and digital pathology.
The next direction is virtual medical care services, in other words, telemedicine. Now this is one of the promising areas, and in the context of COVID-19, the demand for these services has increased significantly.
Treatment-oriented projects. They contribute to prevention, control or treatment of diseases. This includes, among other things, wearable devices used for prevention.
In 2020, a record amount of $14.2 billion was invested in digital healthcare startups worldwide. The main innovations are expected to focus on three areas: data compatibility, mental health and individual approach. In addition, the global pandemic has made people more concerned about their health, and the market for medical technologies has become more mature.
In Russia, the use of AI in healthcare is one of the key areas for improving the standard of living of the population. This follows from the National Strategy for the Development of Artificial Intelligence until 2030. In August 2020, the first national standard in this area has already appeared: a draft of the first national GOST R standard has been developed, which regulates clinical trials of medical artificial intelligence systems in Russia. This will help to increase the level of trust to the system; this is the issue that medical institutions, in Russia as well as in other countries, now face in connection with the introduction of AI.
The specifics of AI introduction in healthcare
In healthcare, solutions based on artificial intelligence can solve many problems, for example, speed up drug development or improve interaction with patients. And it will be quite profitable for pharmaceutical manufacturers, distributors, medical institutions, etc. However, there are some intrinsic problems that prevent full-scale implementation of AI in healthcare segments.
The high cost of a mistake. Currently, no technology works with 100% accuracy, so there is a risk of errors, which, in turn, can lead to injuries to the patient or other health problems. If the system recommends the wrong medicine, does not notice a tumor on the scan, allocates a place in the ward to the wrong person, any events like that will have a negative impact on the patient's experience. Therefore, it is now very important to use the technology in combination with the work of a doctor.
Data availability. Training artificial intelligence systems requires large amounts of data. The information is stored in electronic medical records, pharmacies, insurance systems, fitness trackers, purchase histories. But it is quite difficult to collect comprehensive health data, because it can be dispersed over numerous systems. For example, a patient may receive treatment in different clinics, and, therefore, complete information about their health will be stored in different places. This fragmentation increases the risk of error, reduces the completeness of data sets and increases the cost of their collection.
Confidentiality. Health and patient information is very sensitive. Therefore, some people may worry that data collection will violate their privacy. In addition, the AI can recognize the disease without receiving data on the diagnosis. For example, if a person's hand is shaking, the AI system may determine whether he/she has Parkinson's disease. Someone may consider this a violation of privacy, especially if this data becomes available to third parties, for example, banks or insurance companies.
The ethics of AI use. This topic is discussed not only in connection with healthcare, but in this sector it is much more acute, since it is always related to the data of real people. In June 2021, WHO released the first global report on artificial intelligence in healthcare. It includes six ethical principles: protecting human autonomy, promoting human well-being and safety, ensuring transparency, fostering responsibility and accountability, ensuring inclusiveness and equity, promoting AI that is responsive and sustainable.
For maximum confidence in technologies, we need a system that will ensure data confidentiality and its protection from intruders. There are a lot of stakeholders in healthcare: patients, insurance and pharmaceutical companies, medical professionals, etc. And they are all equally important, as resistance at even one of these levels can slow down the implementation of the technology. Therefore, developers, the medical community and pharmaceutical companies have yet to find a balance between ethics and profit-making.
Areas where the technology can make a change
Development of new drugs. The cost of developing one drug is now estimated at $2.6 billion. Many of them do not enter the market because they failed to pass the trials or have not received regulatory approval. Therefore, pharmaceutical companies are increasingly using AI to improve the efficiency and accuracy of drug development.
For example, Pfizer uses IBM Watson to research in the field of immuno-oncology, which is an approach to cancer treatment that uses the body's immune system to help fight the disease. And NIT scientists used AI to find halicin, an antibiotic able to destroy superbugs, for example, those causing tuberculosis or Acinetobacter baumannii. Before that, scientists could not discover new classes of antibiotics for more than 30 years.
MIT has a consortium of Machine Learning for Pharmaceutical Discovery and Synthesis, which includes companies such as Amgen, BASF, Bayer, Lilly, Novartis, Pfizer, Sunovion, and WuX. The goal of the community is to provide the latest machine learning tools for the discovery of new drugs. For example, deep learning models for predicting the properties of drugs or retrosynthesis algorithms that offer optimal "recipes" for creating target molecules.
Supply chains. The transformation of this sphere is possible within the next few years. Together with machine learning and predictive analytics methods, AI has the opportunity to solve several serious problems in the supply of biopharmaceuticals. For example, to ensure timely delivery of drugs to hospitals and pharmacies, thereby preventing any shortages.
Aera uses technologies to improve and automate decision-making across supply chains for pharma companies, which get automated messages about shortages and spikes in demand, as well as recommendations on how to fix the issue. The clients of the service include the German pharmaceutical company Merck KGaA (in North America it is known as EMD). The pharmaceutical giant sells drugs in 68 countries. The company needs to ensure the transparency of its supply chain, and Aera is truly helpful in the process.
Routine work of medical staff. According to Insider Intelligence, 30% of health care costs are associated with administrative tasks. An OptumIQ survey of healthcare executives showed that 50% of companies first invest in business process automation. For example, the services can automatically digitize patient questionnaires using natural language recognition technologies, issue medical bills to insurance companies or patients, control expenses and help optimize the budget.
More than 900 hospitals in the United States use Olive's automation service. The application performs routine tasks for medical workers. Thus, Olive helps Tufts Medical Center with testing for COVID-19 at the planning, initial screening and information entry steps. Patients can independently fill out an online pre-registration form at a convenient time, after which Olive AI extracts the information and creates an account for pre-registration for testing. As a result, the waiting time in the clinic decreased, and more people were offered testing opportunities.
Diagnosis of diseases. 70% of all medical errors occur at the diagnostic stage. Errors in clinical reasoning may result from some cognitive distortions or a lack of experience. Artificial intelligence technologies eliminate the possibility of human error and can perform a comprehensive analysis of other doctor's experience, something that people are not able to do.
The PathAI startup is developing artificial intelligence technology to help pathologists make more accurate diagnoses. The startup uses machine learning and deep learning to improve diagnostic and treatment potential based on disease biomarkers identification and prediction of the response of individual patients to various types of treatment. The company works with pharmaceutical researchers, developers of diagnostic tools and companies working with digital pathology.
Together with its partner, Gilead biopharmaceutical company, the startup published a study showing that PathAI technologies can analyze liver biopsies to accurately predict the progression of NASH (non-alcoholic steatohepatitis) and chronic hepatitis B, as well as determine the effectiveness of treatment.
Conducting clinical trials. Artificial intelligence is able to accelerate the delivery of data. AI models in tandem with respondent recruitment applications make it easier to plan trials. As a result, it is possible to reduce dropout rates. For example, the Deep Genomic platform helps scientists find candidates for research on drugs related to the treatment of neuromuscular and neurodegenerative disorders. This increases the chances of successful testing and reduces the time and cost of bringing the drug to the market.
Artificial intelligence helps scientists from the Novartis Institute for Biomedical Research to collect, analyze and obtain clinical trial data from a variety of internal sources. The ultimate goal of the company is to track the registration of trial participants, as well as to predict the associated costs. The institute has already managed to reduce patient recruitment time by 10-15%.
Personalized medicine and pharmaceuticals. They are the future of healthcare in general, as they will make patient treatment more targeted and effective, with a lower level of side effects. Artificial intelligence helps pharmaceutical companies to create medicines, determine appropriate drug dosage, release parameters, and other necessary aspects. As a result, the medicines will fully meet the needs of the patient.
Prospects of Russian medicine
Russia ranks 47th in the Global Innovation Index. The country's strengths include the human capital and research capacity, the quality and accessibility of higher education, the number of graduates in the field of science and technology. To get ahead, the country needs to increase funding for the development of new technologies and implement them. For example, Moscow polyclinics use a domestic solution, which was included in the final of the UN WSIS Prizes 2021 international contest. The system analyzes thoracic CT scans in cases of viral pneumonia, detects breast pathologies based on mammography and helps in making other medical decisions.
There are also private projects. For example, the project "Sber AI" and "Sber" uses AI to identify the frontiers of science, i. e., the most popular areas of research in which there is an active development and the greatest breakthroughs occur. The results of the work can be used for planning scientific research and development of the country as a whole. And state funding of relevant research will help to improve the economy, social life and will make it possible to play with forecasts.
Mainstreaming of artificial intelligence in the healthcare and pharmaceutical industries is an inevitable future. IT tools are already modernizing the work in some areas, and we can see how IT helps to optimize production, procurement and supply. However, it will be possible to fully unlock the potential of AI only with the integrated use of tools in all areas of the healthcare system (from the development and supply of medicines to diagnostics, treatment and health care activities).