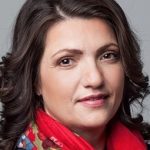 "Zdravstvuy!" ("Hello!") is the name of the All-Russian Association of Cancer Patients, which has been helping people diagnosed with cancer for five years.
Over the years of working in this public organization, I have actually came to consider everyone who is involved in the fight against malignant neoplasms as colleagues. Only through joint efforts can we improve the quality of cancer care in our country and its accessibility to every patient.
The federal project called "Fighting oncological diseases" is the largest of the eight included in the Healthcare national project. Patients already notice the results of the work. Even compared to the mid-2010s, a real breakthrough has occurred in the provision of medicines. Work is being done to establish outpatient care centers, equip regional and federal medical centers, and open new clinics.
The situation, of course, would have improved faster but for the coronavirus pandemic. The restrictions have slowed down mass screening. Oncopatrul project, in which our Association partners with the Federation Council and the Association of Oncologists of Russia, has also faced difficulties. It is vitally important to restore the long-term upward trend in the proportion of diagnoses made in the early stages of cancer.
It should be noted that the state has demonstrated its ability to respond to challenges in a flexible manner. Interruptions caused, among other things, by the pandemic were largely compensated by interaction with private medicine, which had been established within a short time frame. Patients were given the opportunity to be treated in private clinics with the financing provided by their compulsory medical insurance.
Many things still need to be done and adjusted. There is still too little attention paid to domestic pharmaceutical developments. A number of seemingly simple issues that are vital for many people have not been resolved. For example, pharmaceutical manufacturers now produce an increasing number of cancer drugs in a tablet form, which is convenient for patients. But a patient often has to go to hospital every day to get each pill. Such restrictions look unnecessary and even unacceptable, especially in the context of the pandemic. One of the tasks of patient organizations is to promote the necessary legislative changes.
For many media channels, the topic of cancer is still taboo. "Our audience fears those things," TV channels sometimes say to us, in a frank manner. But, as we know, cancer is something that happens to others until it happens to you. And when a person learns their diagnosis, they may overcome their dismay by getting informed about the disease and by receiving directions on who they have to contact and what to do. We produce hundreds of brochures on oncological nosologies and answer thousands of specific questions through all communication channels.
Providing information on all issues related to oncology is one of the goals of the federal project; it is also a necessary condition for the formation of commitment to early diagnosis measures and effective treatment among a wide range of patients and medical professionals.
The joint media project of GxP News and Doctor TV channel is one of the steps in this direction. Read about the modernization of the oncological care system, its evaluation by leading doctors, and what the pharmaceutical industry offers in our special project.